Salesforce is a customer relationship management solution that brings companies and customers together. It is an integrated CRM platform that provides all parts of your company – including marketing, sales, commerce and service – with a single, application interface for each customer.
OPTIMIZED SALESFORCE WITH LISTENING FUNCTION ON THE INTERFACE
With the combination Gcalls – Salesforce, your team will work on a single interface. When you need to call a customer, the staff simply clicks on the phone number or the call button. The call is instantly connected without having to switch to another device or interface. When there is an incoming call, the call box will display a notification regardless of whether you are working in any interface on the computer. Best of all, with just a few simple taps, CRM Salesforce that you are using will be "resonating power" right away Gcalls.
CLICK-TO-SMS FROM SALESFORCE WITH BRANDNAME
A tripartite combination is Gcalls – Salesforce – Gcalls SMS partner, in addition to the Click-to-Call function next to each phone number, you can also Click-to-SMS to send customer care SMS messages with your own brand. You can also choose pre-made templates to save time and personalize your messages automatically with fields pulled from Salesforce.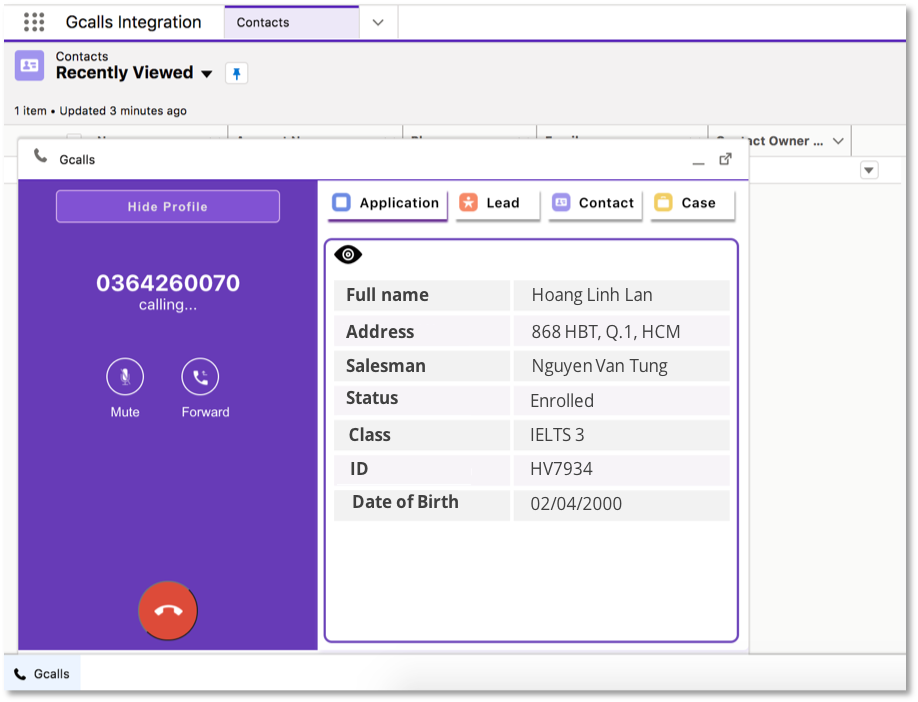 KNOW YOUR CUSTOMERS INSTANTLY
When a customer calls, a window with the customer's information immediately appears even though the phone number exists in many different Objects. That way, you'll be best prepared for the conversation. You can access the customer details page on Salesforce with only one CLICK. Information may include: Full name, phone number, address, order history, recent notes, staff in charge, .... Surely nothing makes customers more satisfied than a service that always cares and respects them.
All call information takes place on the interface Salesforce are stored in the Salesforce Task object and assigned to the customer information page if any exist. HR and managers can understand the history of customer interactions, review at any time, and evaluate easily to bring the best experience to customers.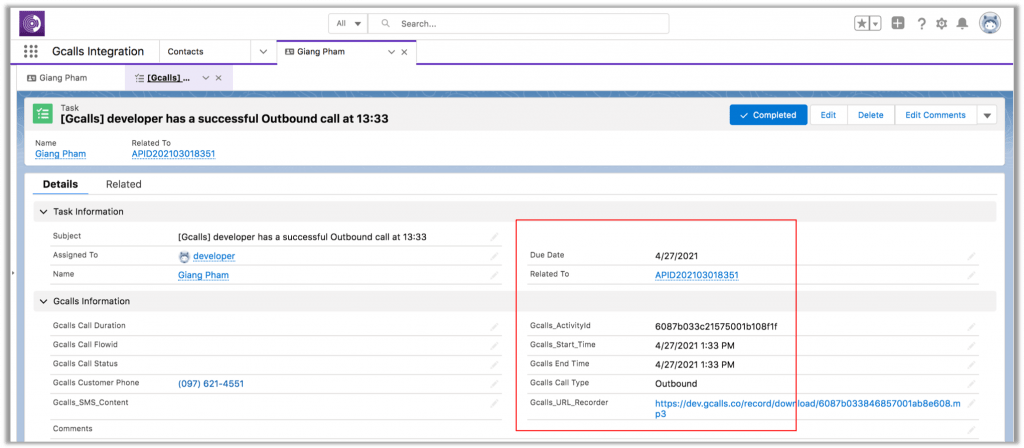 Contact Gcalls for advice