Sapo is an omni-channel sales and management platform, providing stores and retail businesses with an overall sales and management platform from online to offline with Sapo POS sales management software, a design solution. Sales website design – Sapo Web, fanpage management software – Sapo Social, and Sapo Omnichannel connect through the above 4 solutions.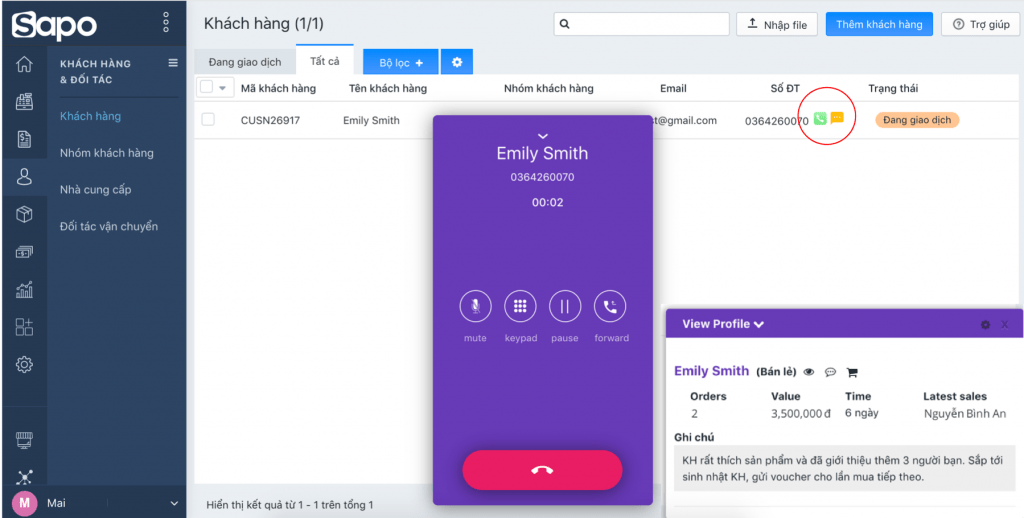 OPTIMIZE SAPO WITH CALLS ON THE INTERFACE
For Gcalls – Sapo combination, your team can work on a single interface. When you need to call a customer, the staff just need to click on the phone number on any page (Customers, Orders, Delivery, detail pages ...), the call is immediately connected without any problems. no need to switch to another device or interface. And when there is an incoming call, the call box will display a notification no matter what interface you are working in on the computer. Best of all, with just a few simple steps, your sales management software will be "resonating with power" right with Gcalls.
In addition to the Click-to-Call function next to each phone number, you can also Click-to-SMS to send customer care SMS messages with your own brand through Gcalls' integration with other phone numbers. SMS partners. And you can text anytime you want, even while chatting, just click on the SMS icon next to the phone number or on the information display window of Gcalls.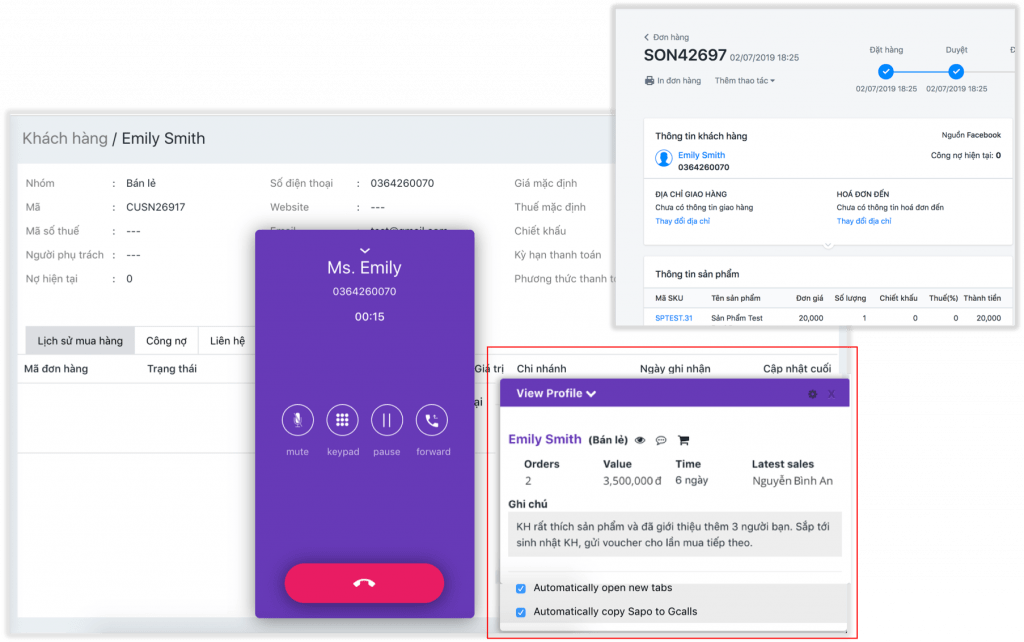 KNOWING CUSTOMERS QUICKLY TO CHAT WITH FEMALE CONFIDENCE
Once a customer calls, a window with important customer information immediately pops up so you can best prepare for the conversation, including: successful total order, how long the customer has been with you. With me, the total transaction value, the last note... At the same time, the customer's last order page is automatically opened or easily accessed when there is a call with just one click. Thus, all information about the customer is at hand, the team does not need to ask the customer for information that they should know before chatting. Nothing makes customers more satisfied than a service that always cares and respects them.
All call information that takes place on the Sapo interface is recorded in Gcalls' application, including history and recording, presented in graphs and tables in an intuitive way. Managers can filter statistical information for different evaluation purposes with the filter function: employee, time, call status, duration, customer...
Contact Gcalls for advice