Jabra Biz 1100 QD Duo Headphones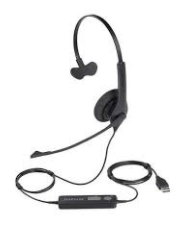 The Jabra Biz 1100 QD Duo headset offers comfort, providing rich sound with noise-canceling microphones to improve your call clarity.
This line of headphones is designed with a microphone that is quite flexible, comfortable and durable for users to work all day.
– It is a line of wired call center headsets on both ears
Compatible with all softphones, MSLync and Office Communicator, Skype and other voice control applications.
– Connect to computer via USB port
DigitalSignal Process (DSP) technology effectively processes noise-canceling signals
– Wideband Frequency response 20Hz-20KHz
- Stereo sound, good quality. In addition to crystal-clear conversations, full stereo sound makes these headphones ideal for watching movies, listening to music.
– You can fix the microphone in the position that best captures your voice and rotate it to the side when you are not talking.
– The controller integrates features such as mute, receive and hang up calls
- Anti-noise noise filter function
Jabra headphones can be worn over the head or can be worn on one ear. Soft, flexible speech tube that can be bent out, in, up, down the USB cable to connect to the computer
SPECIFICATIONS
Headphone type: two sides
Connection: usb port
Quick Disconnect: Dasan QD . Standard
Stethoscope: Leather cushion, foam cushion as accessories
Weight: 63g
Contact Gcalls for advice